New Feature: Waterway Guide
Waterway Guide content is now available as a chart overlay within the SEAiq app. Waterway Guide utilizes their extensive user base, large network of on-the-water editors, and full-time staff to provide up-to-date and accurate content for safe and informed travel along the waterways. Marinas, anchorages, navigation alerts, bridges and locks for the Eastern U.S., Canada, Bahamas, and Cuba are now available for offline access.
Important: ActiveCaptain
We are informed on May 23, 2018 Garmin will make incompatible changes to the ActiveCaptain server. After this date, the current ActiveCaptain data will continue to work in SEAiq. However, no further updates will be available for download. We recommend users sync offline data on their devices before the May 23 cut-off. We are considering updating SEAiq support for ActiveCaptain but do not have definite plans yet.
SEAiq Pilot runs on all major platforms and supports all pilot plugs and PPU devices.
Supported Tablets, Smart Phones, Laptops, and Desktops
SEAiq Pilot is the only cross-platform software for pilots.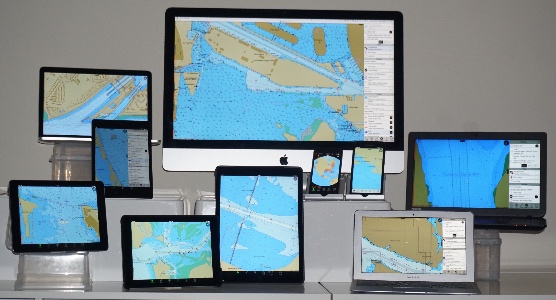 Apple iPad and iPhone (IOS)
Apple MacOS
Android
Microsoft Windows
Portable Pilot Units
When aboard a vessel, pilots will normally use a device to acquire position of the vessel and AIS data for nearby vessels. PPU units vary a great deal along a wide range of factors, however they can be split into 2 groups, AIS Pilot Plugs and Advanced PPU's.
Important: Because of lack of Apple certification, Apple iPads and iPhones in general cannot connect to Bluetooth AIS Pilot Plugs.
AIS Pilot Plugs
AIS Pilot Plugs connect to a standard pilot plug, read the data on the pilot plug connector and transmit it via WiFi or Bluetooth to SEAiq. SEAiq supports all AIS Pilot Plugs, including those from the manufacturers listed below. These devices provide access to all navigation data available on the pilot plug.
Some devices supplement data from pilot plug with additional sensors such as Rate-of-Turn (ROT) (which addresses poor quality ROT sensor many vessels have) or a backup GPS in case the vessel position is incorrect.
Advanced PPUs
Advanced PPU's provide additional data such as hi-resolution GPS position sensors. These improve on the quality of electronics for many vessels and in some cases allow the pilot to be completely self-contained (not rely on vessel for any sensor data).